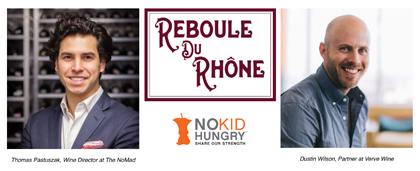 About five years ago, Dustin Wilson became the wine director at Eleven Madison Park and Thomas Pastuszak became the wine director at NoMad. At a similar point in their careers at restaurants in the same group, the two bonded over their many shared interests, one of which was a love of the wines of the Northern Rhone.
Last year, when they were visiting cellars in the region together, they hatched the idea to have a weekend celebration of Northern Rhone wines in New York City. Thus Reboule du Rhone was born with the first weekend of events slated for November 17-19. Pastuszak says that some of the dozen producers invited have never been to New York before. Part of their motivation was to give "the sommelier community a chance to get in front of these heralded producers," he says.
"We get really excited to serve these wines and drink these wines. But the region is somewhat under the radar. So it is exciting to give them wider exposure," Wilson says.
With other weekend fetes on the New York City calendar of Burgundy, Champagne, and others, there was an opening for a Northern Rhone event. "For us, we felt it was only a matter of time until somebody jumped on this. We've hit a point in our career where we are very well positioned and the timing was right for us to do it.
One further way to stand out is that fully 100% of the net proceeds will go to charity. The nonprofit they are working with is No Kid Hungry, an organization that works to improve childhood nutrition that has worked frequently with chefs and the restaurant community.
The flagship event is the Reboule, a $600/head BYOB dinner bacchanal with winemakers who will be bringing back-vintages from their cellars. Participating chefs include Daniel Humm of EMP and Abram Bissel of The Modern. But perhaps the best value is the walk-around afternoon tastings where the winemakers will be pouring their current releases.
The best wines from the Northern Rhone, syrah's ancestral homeland, represent something of a Lorelei to me, with their alluring, savory call of black olives and herbs. The producers here a veritable murderer's row of producers from the region. So it's hard to imagine what the Reboule will do for an encore. But that's a problem for next year.
Participating winemakers

FRANCK BALTHAZAR, CORNAS
JULIEN CECILLON, CROZES-HERMITAGE
AURELIEN CHATAGNIER, ST. JOSEPH
JEAN-LOUIS CHAVE, HERMITAGE
GUILLAUME CLUSEL, CÔTE-RÔTIE
LIONEL FAURY, ST. JOSEPH
JEAN GONON, ST. JOSEPH
MAXIME GRAILLOT, CROZES-HERMITAGE
VINCENT PARIS, CORNAS
JEAN-PIERRE & GUILLAUME MONIER, ST. JOSEPH
ANDRE PERRET, ST. JOSEPH
PIERRE ROSTAING, CÔTE-RÔTIE