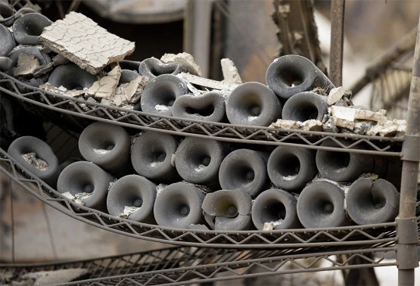 The wine country fires caused a lot of damage, that we know. But as the fires come under control and some residents return to their greatly altered lives after mandatory evacuations, we are starting to get a handle on the extent of what happened. Here is a sad list of 22 wineries damaged by the fires in both Sonoma and Napa. And there's speculation that undocumented immigrant workers, vital to the system of wine making, may not return since they do not qualify for disaster aid and much of the low-cost housing was damaged.
Sadly, there have been reports of price gouging as well as insurance payouts being insufficient to cover some damage. One estimate put the total at $3 – $6 billion.
Clearly, the regions need a lot of help. As wine consumers, the most obvious thing we can do is to buy wine from the affected areas. There are a variety of local charities to contribute too as well. And in the past few days, sommeliers and winemakers have organized a charity tastings to raise funds to aid the wildfire recovery effort. The first will be locally in Healdsburg, also in SF and NYC. I expect these will be very well attended.

Winemakers and sommeliers for California wildfire relief
Participating wineries:
ARNOT ROBERTS
DOMAINE DE LA COTE
IDLEWILD WINES
JAIMEE MOTLEY WINES
JOLIE-LAIDE WINES
KOSTA BROWN WINERY
KRATER CELLARS
PAX WINES
SCRIBE WINERY
SAXUM WINERY
BOOKER WINES
RAFT WINES
ROOTDOWN WINES
RUTH LEWANDOWSKI WINES
RYME CELLARS
WIND GAP WINES
SANTA CRUZ WINERIES
DIRTY & ROWDY WINES
DOMAINE DE LA CÔTE
MATTHIASSON WINES
SANDLANDS
HIRSCH VINEYARDS
This entry was posted on Thursday, October 19th, 2017 at 2:27 pm and is filed under
American wine
. You can follow any responses to this entry through the
RSS 2.0
feed. Both comments and pings are currently closed.